I wanted to share a recipe I made last night. My husband wanted a chocolate chess pie and I wanted one I could eat. I got one at http://www.yummly.com/recipe/external/Chocolate-Chess-Pie-I-Allrecipes after Goggling for lower cholesterol chocolate chess pie. Oh this recipe is fanastatic. My grandson said it was like eating a fudge pie. I served it fresh out of the oven and still warm.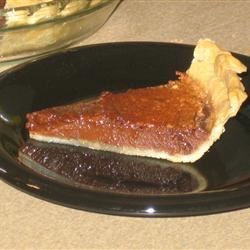 Now let me tell you that I know it is high in sugar! But look at the calories from fat. Why so much fat calories? I must be missing something. The recipe has butter, eggs, cocoa powder, sugar, evaporated milk and vanilla. Which one is providing the fat calories?
I want to know how I can make this recipe better for a person on a low cholesterol, low sugar eating plan. I considered using egg whits instead of whole eggs as an option. I also thought about using stevia instead of the white sugar. I wondered if it would be better to use brown sugar instead of white and if it would make a difference. Would I use less sugar? Where would I go to figure this out? Just trial and error? But then again if I change the ingredients, how do I figure out the difference in the nutritional value?
I need to know if this is a recipe that I will just have to make for them or if I can modify it. Personally I want them to eat more like the doctor told me to so they don't end up with the same problems. My grandson is 10 and this is a good time to make his food choices better.
Like I said before if you have suggestions I will try them and post the results. If they don't work out I'll tell you why or what we didn't like about them.
Don't forget to email this post to people if you like it!